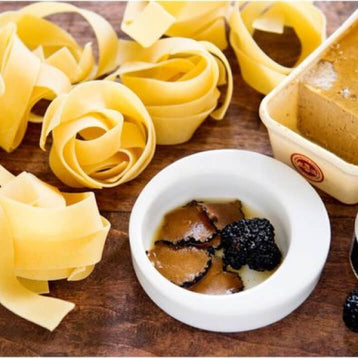 Snack / Pates
Pasta with Foie Gras and Truffles
with Mousse de Canard au Foie Gras - Duck Mousse with Duck Foie Gras & Grapes
2 Servings
INGREDIENTS
4 ounces Foie Gras de Canard
1/2 cup dry red wine
1/2 tablespoon unsalted butter
2 tablespoons minced shallots
1/2 cup chicken stock
1/2 teaspoon dried thyme
1/2 ounce tinned black truffle, sliced thin, juice reserved
4 ounces pappardelle
Salt and ground black pepper​
INSTRUCTIONS
Reserve 1 ounce of the Foie Gras. Dice the rest and place it in a bowl.
Gradually add wine and use a small whisk to blend the Foie Gras and wine together until smooth. Set aside.
Heat the butter in a skillet. Add shallots and sauté on medium until soft and barely tinged with brown. Add stock and cook until stock is reduced by half.
Remove from heat. Stir in Foie Gras mixture. Heat gently for a couple of minutes. Season with salt and pepper.​ Add thyme and truffle juice. Remove from heat and cover to keep warm.
Bring a pot of salted water to a boil, add pasta and cook until al dente, about 5 minutes. Drain well.
Transfer pasta to skillet. Place over low heat. Add truffles. Using tongs, turn pasta to reheat and coat with sauce.
Divide into two soup plates and serve with a piece of Foie Gras on top.
Credit: Cooking NY Times and Florence Fabricant
Top tips
Pair with a light to medium bodied white wine with citrus and tropical flavor notes.